Aeroseal Duct Sealing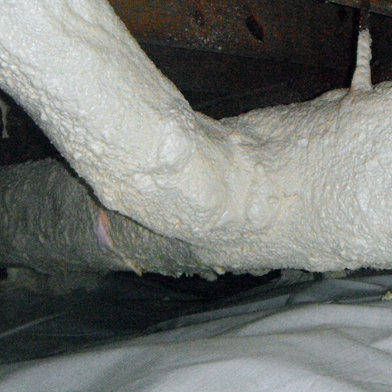 Leaky ductwork is the #1 reason for home energy waste. Did you know that 20-30 percent of air flowing throughout your home may be getting lost through cracks and gaps in your home ductwork? All homes, new and old, have leaks in their ductwork and you may not know how much it is actually affecting your quality of living and your monthly energy costs. When your ductwork is leaking...
Energy is wasted.
The hot air that escapes from your ducts can cause moisture in your walls and damage to your home's structure.
Humidity, dust and dirt travel into and throughout your home through the air return in your duct system.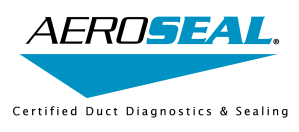 How do you know when your ductwork is leaking? Most of the time, your home ductwork is covered in gaps and spaces that allow air to leak out, and you can't even see it! 

Is your home subject to poor air quality and a lot of dust? Have you been noticing inconsistent temperatures throughout the rooms in your house? Are your energy bills high? 

If you've answered yes to these questions, your problems may be solved with our Aeroseal Duct Sealing technology: a scientifically-advanced duct sealing process that can save you money and reduce energy loss. 
Aeroseal is the first and only sealant that can seal your entire duct system. Unlike any other sealing process, Aeroseal attacks leaking ductwork from the inside out. When your ducts are Aeroseal-sealed, all of your ductwork is reached. The more common manual technique only seals leaks visible to the technician. With Aeroseal Duct Sealing, you'll see immediate energy savings while improving the performance of your AC and furnace by up to 40 percent. Aeroseal is so effective, the work is backed up with a 10-year guarantee. 
How can Aeroseal help you?
Comfort: Aeroseal stabilizes temperatures throughout your house and balances rooms that are too hot or cold.
Health: When you seal your ductwork with the Aeroseal technology, you reduce the risks of pollutants circulating through your home.
Safety: You'll reduce the risk of carbon monoxide and combustion gases entering your home through the ventilation system.
Savings: According to the Electric Power Research Institution, residential duct leakage can account for as much as 15 percent of a consumer's utility bill. Aeroseal Duct Sealing will increase your heating and cooling systems' efficiency by as much as 20 percent.
Environment: You will reduce air pollution and greenhouse gas emissions attributed to energy generation.
The Aeroseal Process
Our technician will temporarily block supply registers and return grilles in your home with tape.
A series of computerized tests are run to analyze air flow and your ductwork system so that you can see how much of your heating and cooling air is being lost.
Once the testing has been completed, the technician will temporarily seal the supply registers again, this time with foam blocks and tape.
The technician will then isolate your home's furnace, coil and IAQ products to prepare for your duct sealing.
A flexible, plastic tube connects your ducts from an access hole to the Aeroseal fan.
A fan blows Aeroseal sealant adhesive particles throughout your ductwork. Aeroseal particles fill in the holes and gaps, but will not coat the rest of your ductwork.
After the technician has finished and your ductwork is sealed, you will receive a computerized analysis that shows the amount of leakage and total hole size of your ductwork before and after the process.
The Noteworthy Solution to Leaky Ductwork

Aeroseal Duct Sealing has received positive recognition for being an innovative and successful duct sealing technique. Aeroseal has won the "Best of What's New" Award from Popular Science magazine, This Old House magazine's "Best New Product" Award and the "Energy 100" Award from the U.S. Department of Energy. 

According to Popular Science, Aeroseal is the "most effective, affordable and viable method of sealing the central heating and cooling ductwork in your home," This Old House notes Aeroseal as the "home energy conservation game-changer," and the U.S. Department of Energy named Aeroseal "one of the 23 most beneficial technologies available to American consumers." 

Aeroseal Duct Sealing has been used for major projects including the City Center in Las Vegas, NV, the House of Representatives in Washington D.C., the Museum of Art in Cleveland, OH, and the California Pacific Medical Center in San Francisco, CA. 
Aeroseal FAQ
Is Aeroseal sealant safe?
Aeroseal sealant is non-toxic and UL approved. 
How long does it take to dry?
Aeroseal drying time is under two hours. By the time the breakdown of the Aeroseal system is completed, your system can be turned on again. 
Will my house smell?
There is a mild odor similar to Elmer's Glue that is present during the time of the sealing process. Odor should dissipate before the next morning.
Can I be in the house during the process?
We prefer no one is in the house during sealing. We highly recommend that all children, pregnant women, and seniors not be present during this process as a simple precaution as well. 
What's the biggest leak that can be sealed?
Aeroseal is capable of sealing a hole or a crack that is up to 5/8" in width. 
What if my home has leaks that are too big?
Broken or disconnected ducts must be fixed prior to sealing. If a large leak is discovered during the sealing process, sealing is halted and our technician will discuss a solution with you. Broken ductwork may be isolated or, if possible, a repair will be made on site. 
Where does the sealant leaking from the ducts go?
Sealant that escapes will settle in wall cavities, attics or crawl spaces. We filter your home's air to capture any sealant particles that may have escaped into the room.
Will this process harm electronics?
Sensitive electronics should be covered. Ask your technician if you are unsure or have any concerns.
What about my HVAC accessories?
Our skilled technicians are trained to protect all accessories prior to sealing. Some items may be removed and reinstalled to prevent damage. Other items may be bagged or covered. 
Can I clean my ducts once they are sealed?
Ducts of all material types can be successfully cleaned after sealing. 
Do you suffer from dust in your home? Are the temperatures in your home's rooms inconsistent? Maybe your energy bill costs have been climbing higher and higher. Click here to contact E.T. Lawson today to see how you can put an end to the energy waste and leaking ductwork in your home and start saving!