Granby Conforto Oil-Fired Warm Air Furnaces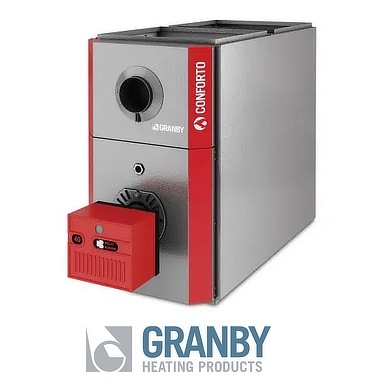 First in Quality, Reliability and Value
As Hampton Roads' first heating service department, E.T. Lawson has seen countless furnaces come and go over the decades, and we want our customers to experience only the best in home comfort. That's why we install Granby Conforto Oil-Fired Warm Air furnaces with efficiency ratings as high as 95.8%. When it comes to oil-fired furnaces, Granby is first in quality, reliability and value.

More Comfort and More Savings
Granby Conforto furnaces are Energy Star© certified at all firing rates. Their high-efficiency blower motors bring additional savings compared to a conventional oil-fired furnace. Customers receive more comfort from more even heating inside their homes, and a faster, more precise response to a call for heat from the thermostat. All Conforto series furnaces are created with 100% premium stainless steel and have AFUE ratings of up to 95.8%.

Reliable Performance
Granby and E.T. Lawson are so confident in these furnaces that we offer each with a 10-year all-parts warranty AND a limited lifetime warranty for the furnace's heat exchanger. Plus, every E.T. Lawson customer enjoys the added reassurance of our No Lemon Policy, which states, "If the heat exchanger in the furnace fails, we will replace the entire furnace at no charge."


Valuable Energy Savings
Granby's oil-fired furnaces are designed, assembled and repeatedly tested to ensure that long-term energy savings are achievable with each model. Of course, here at E.T. Lawson, we understand that there's much more to energy savings than a system's efficiency rating. That's why...

E.T. Lawson packages each Granby Conforto furnace we install with these value-added extras:

FREE Aeroseal Duct Sealing ($1,995 value)
Designed to improve the performance of your furnace or air conditioner by up to 40%


FREE Five-Year Service Agreement ($1,499.95 value)
Includes annual preventive maintenance, priority emergency service and free parts replacements

FREE Three-Year Protection Plan
We guarantee your per-gallon Ultra Heating Oil price will be 40 cents below normal residential price for three full years.


$500 Rebate for a New Furnace Installation made available through the Upgrade & Save – VA Energy Efficiency & Safety Rebate Program.
Contact us today for a free quote on your new Granby Conforto Oil Furnace.