E.T. Lawson's long history began in 1919 when we opened for business in our present location.
At that time our customers were the fishing fleets of Hampton Roads. We sold them marine goods, groceries, and as the fleets converted from sail to motor power - petroleum products.
Approximately ten years later, I.E. Lawson made the first heating oil delivery on the Peninsula to the Hampton Country Club - in a pickup with two 55-gallon drums. Three days later they called again, and the rest is history. In 2004, we added electrical and plumbing departments. Today, we are the largest home Heating Oil company in Hampton Roads, serving over 8,000 customers from Virginia Beach to Williamsburg. We also service and install all kinds of heating equipment, including gas and electric.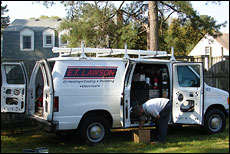 Notable firsts in our business in this region have been:
The Lawson family - the fifth generation is working in the business - and the many Lawson co-workers are dedicated to continuing this tradition of firsts.



Our mission throughout the years has been and continues to be:
To offer the best products and services to our customers.
To treat each customer as we ourselves want to be treated.
To create a work environment where employees who accomplish this are rewarded.
No Company Offers More.