E.T. Lawson Newsletter - Fall 2017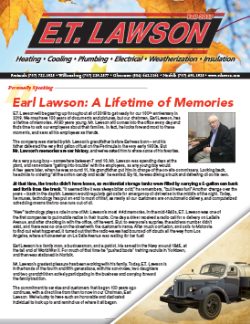 This Issue....
Earl Lawson: A Lifetime of Memories


Bring Your A-Game!


Share E.T. Lawson With a Friend!


The Cure for Your Winter Woes


Take Pride in Your Home Comfort


Take The Savings Even Further


Click here to download the PDF file
Past Issues
Please note: you must have pop-ups enabled to view/download our newsletter.