E.T. Lawson Newsletter - Winter 2019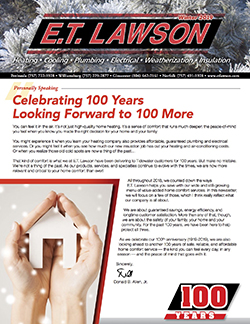 This Issue....
Celebrating 100 Years Looking Forward to 100 More


Introducing Airtemp Oil Furnaces


Cool Comfort AND a Heating Helper Whenever, However You Need Them


Share & Save


Satisfying Customers for 100 Years and Counting


An Important Message Regarding Fuel Safety and A Recent Natural Gas Disaster


Leave No Holes In Your Home Comfort


Take The Savings Even Further


Click here to download the PDF file
Past Issues
Please note: you must have pop-ups enabled to view/download our newsletter.