E.T. Lawson Newsletter - Spring 2018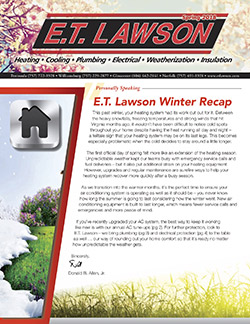 This Issue....
E.T. Lawson Winter Recap


Stay In Tune


Protection and Peace of Mind In Plumbing


Lower Water Heating Costs with Bradford White & E.T. Lawson


Happy Centennial to Us!


Summer Upgrades for Your Home


Maytag Heat Pump Hybrid Systems


Take The Savings Even Further


Click here to download the PDF file
Past Issues
Please note: you must have pop-ups enabled to view/download our newsletter.