Home Energy Audits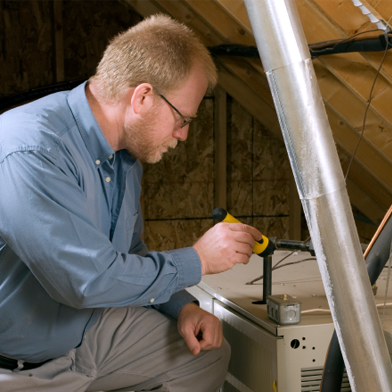 Repairing air leaks is often necessary to drive down heating and cooling costs, but it's not the first step. To launch a successful home energy conservation campaign, it pays to develop a strategy based on precise information about the house. 

E.T. Lawson eliminates the guesswork with a home energy audit that creates a scientific basis for conservation improvements. Our sales manager, Bob Allsbrook, is leading the audit program after gaining Building Analyst certification from the Building Performance Institute (BPI). "With energy prices going through the roof, the best way to fight back is to go into the house, find the leaks, and seal them up," he said. "You haven't really improved anything unless you've fixed the leaks in the house." 

A home energy audit is a smart first step, according to Allsbrook. "For a fraction of the cost of a new heating system, we can do an audit and then seal the home so it doesn't leak so much. If you don't tighten things up, you're still going to spend too much on energy." 

Here is a look at the steps involved in an E.T. Lawson home energy audit:
Interview: We interview the homeowner about the home's comfort level and any indications of problems.
Evaluation of energy use: We gather data from energy bills to learn how much energy is being used.
Walkthrough: We look over the building inside and out and test the heating and cooling equipment.
Blower door test: We use a special door outfitted with a powerful fan to depressurize the home and determine the severity of the air leakage problem. We can also pinpoint leaks and mark them while the home is depressurized.
Thermal scan: We use an infrared camera to make images of the home that reveal areas of inadequate insulation as well as hard-to-find air leaks.
Ductwork testing: In addition, we will test the home's ductwork for leaks using these sophisticated instruments. When the evaluation is complete, we present an in-depth report about energy usage in your home. You see which factors are costing you the most money and which repairs will yield the highest return on investment.
Should I Choose the Energy Audit or the Survey?
Which home energy evaluation should you choose? Our premium service, the home energy audit, is performed to Building Performance Institute standards and includes a detailed report that explains the improvement opportunities and the potential benefits of each. You'll have a clear sense of what you can achieve and which improvements deserve the highest priority. The energy audit costs $295. 

For customers who want to learn more about their home without undertaking an in-depth scientific study, we offer a home energy survey. An E.T. Lawson Conservation Specialist will visit your home and conduct an informal inspection and inventory. You get a good general idea of the effectiveness of their comfort systems and the home's outer shell. This service is free for any E.T. Lawson customer.