Maytag Gas Heating Systems

For the Best Gas Heating Equipment, Trust the Experts at E.T. Lawson

When it's time to choose an efficient gas heating unit, E.T. Lawson is here for you. We are Tidewater's experts in gas heating installation and repair. 

Gas furnace maintenance and service is our specialty 

Our customers trust us for superior gas heating maintenance and service, including heating installation, repair and tune-ups. For HVAC repair services, no one beats E.T. Lawson!


Featured Product
Maytag M1200 Two-Stage Variable-Speed Gas Furnace
95.1 AFUE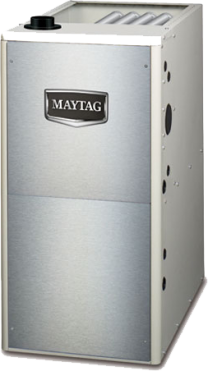 Maytag variable-speed gas furnaces offer exceptional performance, home comfort and energy efficiency. When combined with Maytag coils and air conditioners or heat pumps, these furnaces deliver extra-high-efficiency 95.1 AFUE heating with additional comfort provided by two-stage gas valves and variable-speed motors. 
Two-Stage, Variable-Speed Heating for Extra Comfort: Provides more consistent temperatures throughout the home while improving air filtration and reducing sound levels.
Quiet: An insulated blower compartment and variable-speed motor provide ultra-quiet operation.
iQ Drive Ready: This furnace can be paired with a Maytag iQ Drive air conditioner or heat pump for ultimate efficiency and home comfort.
Warm Air from the Start: 30 second blower delay assures a warm duct temperature at furnace start-up.
ENERGY STAR® Rated: This product exceeds ENERGY STAR® requirements for efficiency.
Dependable Igniter Technology: Innovative SmartStart technology learns the start-up characteristics of the furnace to greatly extend the life of the igniter.
Designed and Assembled in the U.S.A.: Factory checked 234 times before being shipped.
Also ask about our:
95.1 AFUE two-stage fixed-speed gas furnace
80 AFUE two-stage variable-speed gas furnace
80 AFUE two-stage fixed-speed gas furnace

Maytag products come with a 12-year limited warranty

Maytag home comfort products are built for dependability - and the company's Worry-Free Limited Warranty for 12 years, plus its Dependability Promise offers a standard equivalent Maytag replacement guarantee if the compressor or heat exchanger fails within the first 12 years. 

For more information on our Maytag home comfort products, call E.T. Lawson today or contact us.